ANAESTHESIA VENTILATOR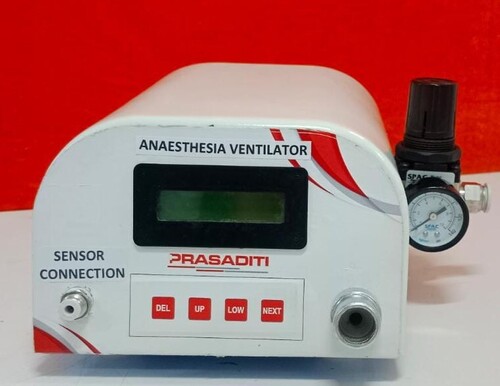 ANAESTHESIA VENTILATOR
Product Description
The Operating Modes 
A. VOLUME CONTROL MODE: - It delivers the set amount of Tidal Volume at set BPM and till set peak airway pressure.
B. PRESSURE CONTROL MODE: - It delivers tidal volume till set pressure is reached
C. ASSISTED MODE: - Also known as Synchronized Intermittent Mandatory Ventilation (SIMV), it works as Pressure controlled SIMV, It delivers set volume with set pressure limit at set BPM and I;E ratio, senses patients inhale and triggers breaths in sync.
It has all following programming features
1. Volume per breath from 100 to 2000 ml in the steps of 50 ml.
2. Max pressure 6 to 50 cm of H2O in the steps of 2 cm of H2O.
3. Breaths per minute 5 to 40 in the steps of 1.
4. I:E ratio 1:1 to 1:3.

Trade Information
PACKING BOX:33.66cm*33cm*33.66cm MACHINE DIMENSIONS:19cm*31cm*12cm

CE, CDSCO
Contact Us
B No - C /33, Midc Kupwad, Miraj, Sangli, Maharashtra, 416410, India
Phone :+918045813449